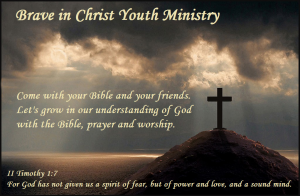 Brave in Christ Youth Ministry – * Starting October 23rd on Sunday's 6-8:00 pm; October through May
Located in the Youth Center and features a thirty minute lesson followed by one hour of fellowship, worship and games.
Ages 13 through high school graduation are welcome (6-12th grade).
Youth Group runs during the school year only.
Contact Steve and Kathy Hazekamp with questions.
Click here to view information about our current curriculum.
Rules
No PDA (public display of affection) of any kind allowed at any time. Such as, but not limited to:

Holding hands
Arms around each other
Kissing
Sitting on laps

No horse play, wrestling or rough housing
No hanging out in cars
No smoking on premises
Dress modestly

No nudity of any kind
Cover chest/cleavage
Cover midriff (at all times including sitting, bending and stretching)
No short skirts or shorts
Nothing see-through

No profanity or crude humor